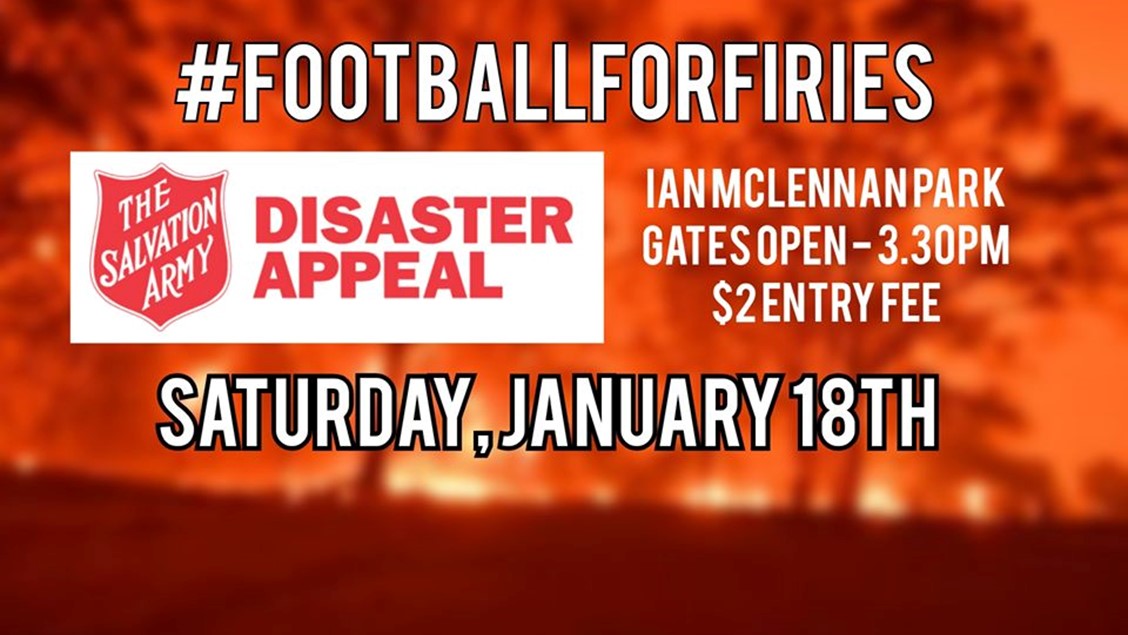 Football for Firies
The back end of 2019 and the New Year has not been kind to Australia as we experience the most intense fire season in history.
Homes, lives and wildlife lost to this natural disaster. Amongst it all, are our firies have worked none stop. Many giving up time and money protecting homes, livestock and communities to the best of their abilities.
Employees and volunteers have been out on the front line, many since October doing their best whilst underfunded and undermanned. Despite all their efforts some communities such as Mogo and Carbago have been lost.
In tragedy though, the Aussie spirit pulls us together and this Saturday will be another great example of that Aussie spirit.  Ian McLennan Park, Kembla Grange, will be the venue for a special Charity match between National Premier League Champions, Wollongong Wolves and Albion Park City Football Club Invitational XI.
Past and present players will take the field to help raise money for the Salvation Army's relief efforts for the South Coast and Southern Highlands areas devastated by these horrendous fires. Some of the names of the past lining up for Albion Park City include former Socceroos David Carney, Brett Emerton, Ljubo Milicevic and Scott Chipperfield plus former NRL Star Robbie Farah and Sydney FC coach Steve Corica. Some of the State's best female footballers will also lace up the boots in a City v Country clash kicking off before the men's.
Entry is only a $2 donation, with gates opening at 3:30pm.
If you can't make it to Ian McLennan Park, you can catch all the thrills and spills from both games live via Bar TV Sports, Facebook and Twitter with commentary by David Weiner, Nick Stoll, Chrissi Trajceksa with sideline comments from Mel McLaughlin and Michael Tomalaris.
About Andrew Clarke
Comments