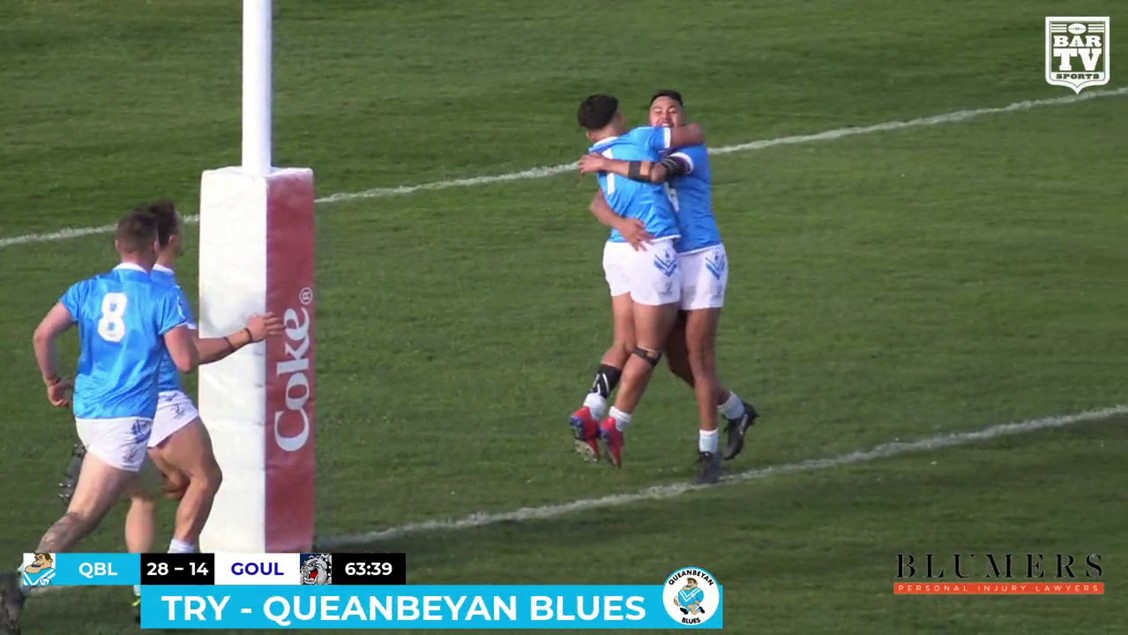 Canberra Regional Rugby League Season 2019 Review
BarTV's own Paul Arandale looks back at rugby league in our nation's capital for season 2019 with Queanbeyan Blues claiming another CRRL premiership.
Queanbeyan Blues came out on top for the fourth time in six years to claim another CRRL premiership.
The regular season race was closely contested with the Blues, Tuggeranong Bushrangers, Goulburn Workers Bulldogs all holding top spot throughout the year. A Round 18 showdown between competition leaders Tuggeranong and second place Queanbeyan Blues would set up a mouth-watering minor premiership bought. The Bushrangers had led the competition for most of the season and were tipped to win a second successive minor premiership, but the Blues upset the party at Greenway defeating the Bushrangers 22-16.
Heading into the final round the Blues had won 4 on the trot, whilst the Bushrangers blown their chance to claim the minor premiership the week before against Queanbeyan Kangaroos.
Goulburn also led the competition earlier in the season and looked like favourites but losses to the Bushrangers in Round 11 and the Blues in Round 16 was enough to push the doggies down to third.
For Queanbeyan Kangaroos, West Belconnen Warriors and Woden Valley Rams their season just couldn't get started. The Kangaroos had to wait until Round 4 to post a win, West Belconnen managed to string four wins in a row at the back end, but a mid-season slump made them play catch up for the rest of the year. Woden Valley Rams became the hunted after their 2018 championship triumph. By Round 12 the reigning premiers occupied fourth spot, but six straight losses sent the Rams crashing out of the premiership.
At the bottom end of the table, Belconnen United Sharks improved to finish seventh, collecting six wins along the way. Gungahlin were 6 points further down whilst Yass picked up the wooden spoon in their 100th season.
With the regular season out of the way, the four remaining clubs turned their attention to the final's series. In week 1 Goulburn sent the Kangaroos packing whilst the Blues defeated Tuggeranong for the second week in a row. That loss really hurt the Bushrangers and in the Preliminary Final the following week, Goulburn ended a nightmare for Tuggeranong Bushrangers. Goulburn's win set up a clash with the high-flying Queanbeyan Blues.
Runner's up in 2014 and 2015 the Bulldogs were aiming to win their first major title since 2009. The Blues under the guidance of Terry Campese and Joel Monaghan would prove too strong for Goulburn. A final score of 34-14 would see the Canberra Regional Rugby League trophy back in the blue half of Queanbeyan for a record 25th time.
Grand Final Results
First Grade - Queanbeyan Blues defeated Goulburn Workers Bulldogs 34-14.
Reserve Grade - West Belconnen defeated Queanbeyan Kangaroos 20-16
U/19's - Queanbeyan United Blues defeated Goulburn Workers Bulldogs 26-10
Ladies League Tag - West Belconnen defeated Goulburn Workers Bulldogs 8-6
Katrina Fanning Shield - Yass Magpies defeated Valley Dragons 18-8
George Tooke Shield - North Canberra Bears defeated Crookwell Green Devils 24-16
George Tooke Ladies League Tag - Harden Hawkettes defeated Crookwell Green Devils 34-6
U/19's Division 2 - Tuggeranong Bushrangers defeated North Canberra Bears 12
About Paul Arandale
Comments