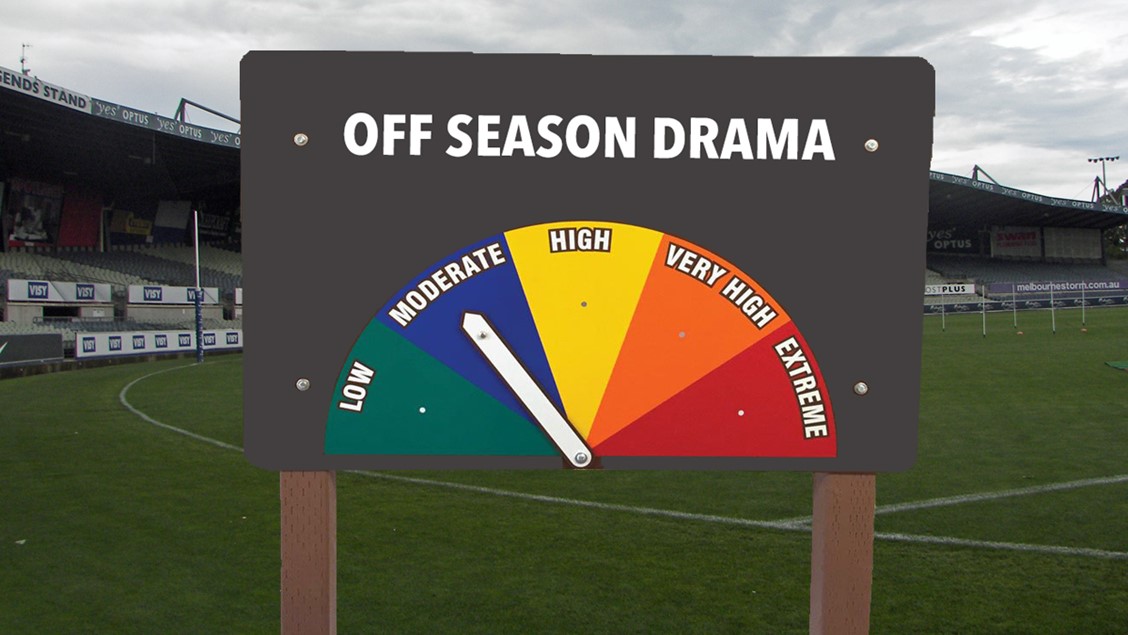 A Moderate Off Season
Aussie's love a good drama and the one's that say they don't, are just bloody causing drama by lying!
Sport and drama go hand in hand in this country, but as far as drama is concerned this off-season, it's been ridiculously quiet. Sure, there's been the odd misdemeanor, but nothing compared to years gone by. If this off-season was measured by a fire warning gauge, it would have to rate as moderate. Moderate standing for boring! This off-season has been so quiet, that major newspapers have even used the poor off-season as an excuse to lay off staff.
So, when there's no scandals or stupid player behavior to debate over, we turn our attention to our chosen sports governing bodies. And why not… they are so easy to pick on!
Football and Rugby have copped a hammering in recent weeks over crowds and competition structures, whilst the NRL holds a 9's tournament in Perth and expect no one will bring up the topic of expansion and there's AFL's drama of what time their Grand Final should be played. All worthy conversation topics but hardly a night out with Todd Carney.
With this being an opinion piece, I may as well throw my two cents in on all the hot off-season topics from most important to least important.
Should Rugby have a national club competition? Yeah why not, if the NRL can claim to have a national comp with 9 of the 16 clubs based in Sydney then it's good enough for Rugby. Who should be in it and how may teams I will kindly leave up to Aunty Raelene. One tip though maybe pick at least one team from the Northshore for your new comp.
Should Football introduce a 2nd Division? To answer a question with a question… is there big enough interest to warrant a national 2nd division? TV ratings and low attendances at A-League would suggest no, but if any code could pull off a second tier on a shoestring budget it is football.
Why are crowds down at Rugby and Football? If I have the choice to go to the football on a 30 degree day or go to the beach, I choose the beach. Cricket is the only sport I will suffer the heat for. Start your comp later or kick off at midnight. In all seriousness, the crowds are really not that bad at football when you compare them to other leagues around the world and I'm not talking about the big four leagues in Europe. Our club administrations attraction with empty seats is to blame. As soon as clubs downsize, the more attractive it will become. To quote an old teacher of mine "Less is more".
Should there be an NRL team in Perth? Yes of course, but will it ever happen is probably the more important question. One thing I have learnt about Rugby League is that administrators from top to bottom take too long to make a decision. AFL will probably have another 2 teams in Perth and the Western Force will return before NRL make their move.
Should the AFL Grand Final change time slots? Absolutely not. One thing I admire about AFL is their traditions. Grand Final Saturday in Melbourne is the biggest tradition of them all. If the commission allow that to change, then there is no hope for sport.
Do you agree with my views or do you have some of your own? Why not share your views with me in the comment section below. I'd love to read what you all think on these topics.
And remember these are just opinions, they are not meant to hurt your feelings or change the world. There's no right or wrong answer so have fun with.
About Paul Arandale
Comments
LATEST FROM Paul Arandale